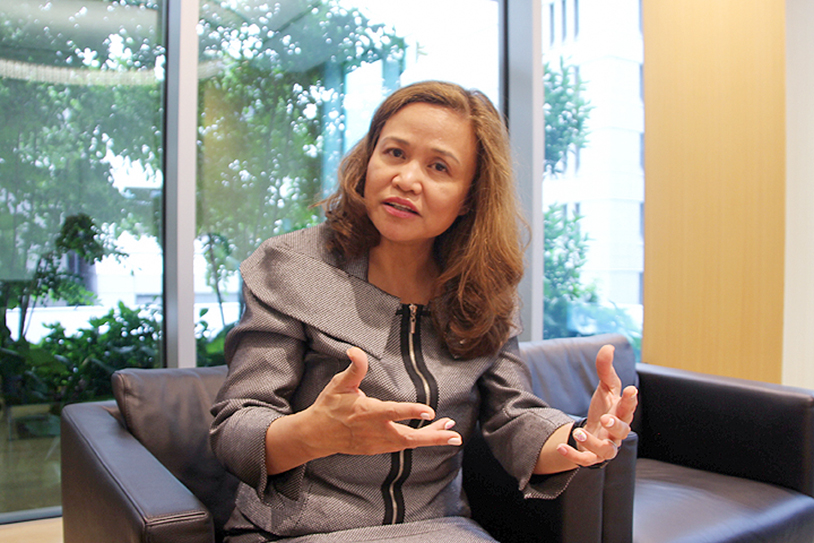 Takeda Pharmaceutical's medical affairs team is expanding the boundary of traditional MA functions by stepping up initiatives under its "Patient First Program," aiming to closely capture patient needs in a bid to transcend the fragmentation of healthcare delivery and provide integrated care with patients at the center.
The company's Medical Affairs unit - independent of its commercial functions - was revamped in April this year under the new name of the Japan Medical Office (JMO). With healthcare professionals such as doctors, pharmacists, and nurses making up 60% of its staff, the office mainly takes on clinical research and post-marketing surveillance (PMS) as well as the screening of promotional material used by sales reps.
In addition to these functions, the unit launched the Patient First Program last year, holding "advisory board" meetings to take up patient needs and challenges faced by healthcare providers. The objectives of the program revolve around improving patients' QOL, supporting stakeholders surrounding the patients, and ultimately optimizing healthcare resources, according to Japan Medical Office Head Jovelle Fernandez.
The JMO currently runs pilot projects in three therapeutic areas - GI, rare disease, and neuroscience. Armed with "intellectual capital," the office is serving as a bridge between R&D and commercial units by interpreting medical needs collected from patients and healthcare professionals through these advisory board meetings. Some of the findings obtained will be utilized for designing clinical research, while the office also gleans issues faced by patients and gives internal feedback on post-launch products as well. In these advisory board meetings, Takeda only listens to patients' needs following the rules of engagement, without collecting patient data or talking about specific products, Dr Fernandez says.
The first advisory board meeting was held in July last year, bringing together patients suffering from irritable bowel disease (IBD) as well as IBD specialists and nurses among other healthcare professionals. One major takeaway from this gathering was that patients want to have a voice in decision making, said Dr Fernandez. With many IBD patients being in the working age population, some pointed out difficulties going to hospitals during the day to participate in clinical studies and suggested an app for recording their data, while some others even volunteered to help design trials, she said. Meanwhile, some IBD nurses have told the company that they would like to do their own research to generate real-world evidence on the behaviors and diet that might exacerbate disease conditions, and the kind of support that might be appreciated by patients.
In the IBD arena, the JMO is also collaborating with an external partner on an e-learning program dubbed "In Their Shoes," where employees use a dedicated app to experience and better understand day-to-day struggles of IBD patients. It is now available in nine languages, already used by more than 1,000 participants in 28 countries. The company is hoping to share the app for external usage in Japan in the near future, Dr Fernandez says.
Another major collaboration is underway in the area of neuroscience - with Verily Life Sciences, an Alphabet company. With the Google sister firm, the JMO has launched joint research to analyze vital signs and motor symptoms in Japanese patients with Parkinson's disease by using a wearable device called "Study Watch." Through this project, Takeda looks to gain further insight into the pathological condition and progression of the disease, and tap the integral findings to eventually develop effective interventional therapies tailored to individual patients.
Under the Patient First Program, the JMO is currently exploring the implementation of projects also in other therapeutic areas including oncology. In the interview, Dr Fernandez expressed her eagerness to further ramp up collaborations with external stakeholders so as to deliver new values from a patient first perspective.